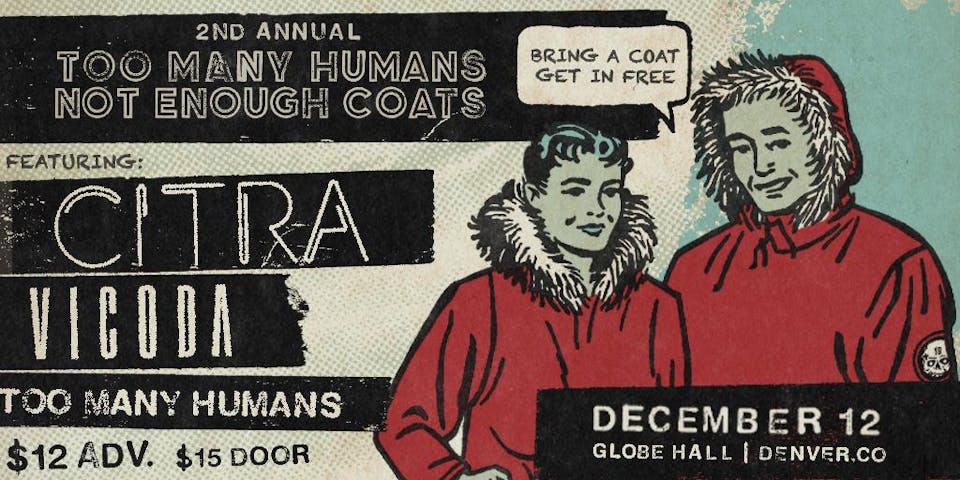 Globe Hall Presents - BBQ opens at 5pm
Too Many Humans
CITRA, VICODA
Too Many Humans, Not Enough Coats at Globe Hall - Thursday, December 21st, 2019 FREE entry with a coat donation!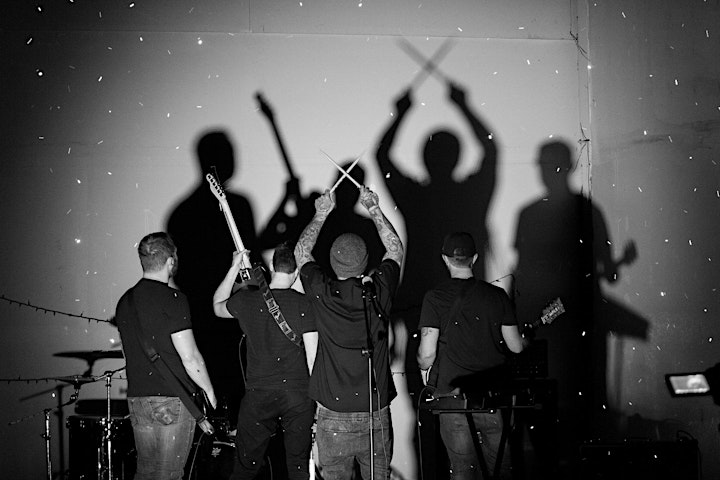 Facebook | Website | Twitter | Instagram
What began decades ago with two brothers living in Florida, a childhood of musical chemistry and a dream to do something bigger, has turned into the four piece weapon of hard charging indie rock music that is now Denver, Colorado's own Too Many Humans. Having completed their incredibly well received and reviewed full length album "Who's In Charge Here" in 2016, then rounding out the two missing pieces for the four piece they envisioned, the band is standing on the edge of musical possibility. This is a revival of original high energy, melodic, thoughtful, mathy rock songs that draw influence from classic blues, metal and punk through today's experimental, alternative and even some electronic. With more studio time already booked for 2017, a rare and obviously hungry/DIY attitude, a live show that leaves everyone exhausted and wanting more, some recent momentum with regular radio play, and a couple of videos that manage to capture the energy of what these songs hold; there's no telling where these guys are going next…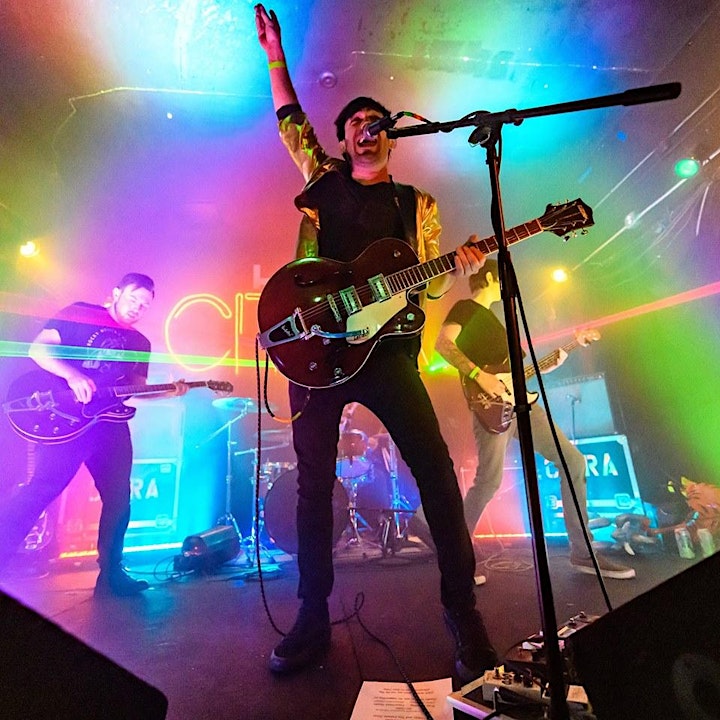 Facebook | Website | Soundcloud | Bandcamp | Twitter | Instagram
Formed in 2015, CITRA is composed of singer/guitarist Brandon Arndt, lead guitarist Augie Menos, bassist Sean Slattery and drummer Mauricio Jara. Based in Colorado, CITRA quickly established themselves as "the premier rock group in the Denver music scene" - Ultra 5280, with gritty guitars, chugging backbeats, and self-assured songwriting.
The band released their first EP, Ocean in January of 2016 a mere three months after their inception. Regarding Ocean, The Prelude Press wrote "Fast, fun and loud, [CITRA] combines guitar driven sounds with soulful melodies to create five unforgettable tracks on their debut EP".
Early 2017 saw CITRA release two new singles, "Air" and My My Mind" along with their first music video to build on the momentum of Ocean. Colorado publication Bolderbeat described the release as, "Gritty, dirty, edgy, yet catchy, a little grungy, and very original, we expect to hear these guys and their hard work appearing everywhere soon."
The band's reputation for high-energy and captivating live shows began to spread and they quickly earned slots next to national acts from all over the country such as Greta Van Fleet, X Ambassadors, All American Rejects, and Shinedown. In early 2018 CITRA released their sophomore EP Mr. Copacetic to widespread acclaim, winning them 303 Magazine's "Best Rock Artist" and "Fan-Favorite New Album" along with a nomination for Westword's "Best Rock Band".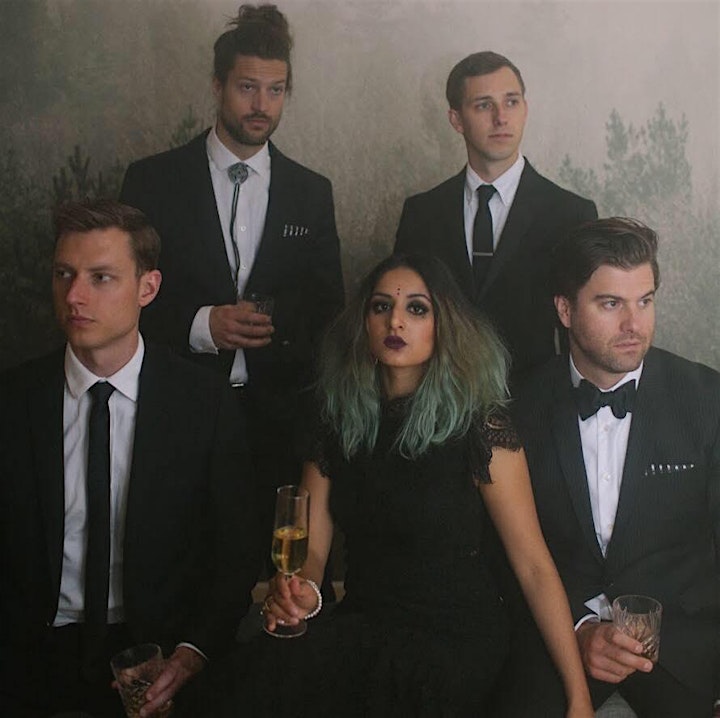 Facebook | Website | Twitter | Instagram

VICODA (vih-co-da) has a passion for electric performances, giant riffs, and meaningful lyrics. Drawing inspiration from classic rock, funk and grunge to soul and Bollywood, VICODA is bringing diversity in both sound and meaning. The band combines powerful yet sultry vocals with funky riffs and atmospheric solos. Together with a driving rhythm section, VICODA is a promising addition to the Denver music scene - where it hopes to anchor roots for many years to come.

Rewind 10+ years, Shivani Bhatt (lead vocals) met Chris Palmer (lead/rhythm guitar) at their Virginia high school and began playing in bands together that would continue on through college. It was during college that the pair befriended Jon Combs (drummer) after Jon shot a mini-documentary for their band Lights in the Fog. Following the breakup of LITF, Jon and Shivani began playing together in another Virginia musical venture. Meanwhile across the country, Idaho brothers Trevor Hougardy (lead/rhythm guitar, backup vocals) and Devin Hougardy (bass guitar) played together growing up and developed their own style that is heavily influenced by 90's rock. After going separate ways and forming their own bands, Trevor eventually met Chris in Chicago playing in the rock band Board of Governors. A few years later both Trevor and Chris had moved to Denver, Shivani and Jon joined from Virgina, and Devin found his way via Minneapolis. United they formed VICODA, an anagram of the states from their past and present to pay homage to their roots.

Venue Information:
Globe Hall
4483 Logan St.
Denver, CO, 80216