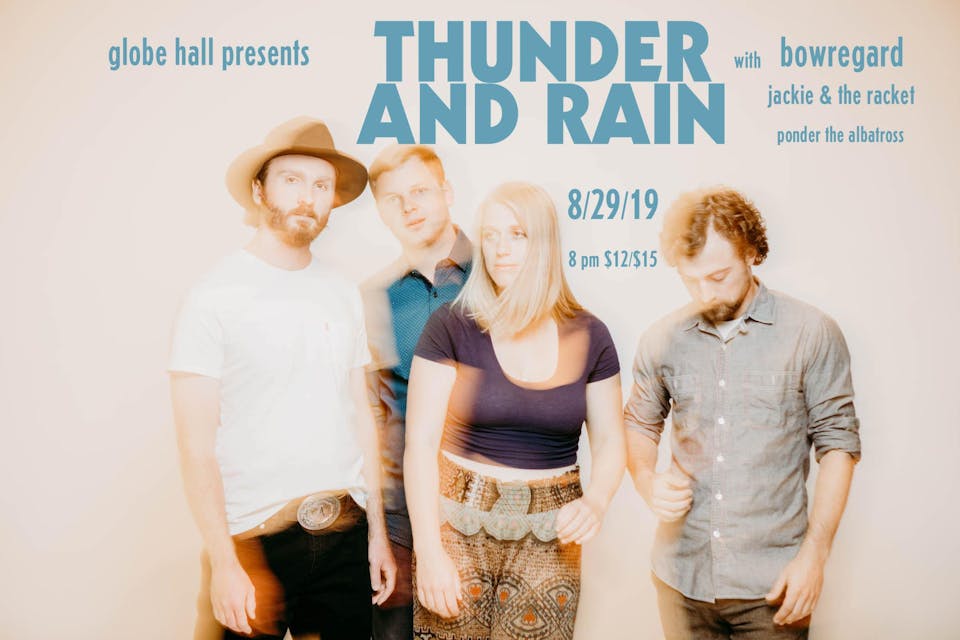 Thunder and Rain
Ponder the Albatross, Bowregard, Jackie & The Racket
Globe Hall Presents
Thunder & Rain is a Golden based band specializing in Mountain Made Colorado Country. Their recently recorded debut EP, Unto Those Hills, is the band's display of an authentically rich and unique style of music. The EP's layered authenticity and well-crafted songwriting reaches from styles seeped in southern roots and stretches headlong into the modern west. The EP features soaring harmonies and well-crafted songwriting from Erinn Lukes, Pete Weber, and R.P. Oates.
Erinn Lukes was raised on the sunny shores of Southern California, where she started playing open mics at 16. She then attended to her lingual talents, receiving a BA in Italian. As a powerful and expressive vocalist, she has performed her original songs at venues from Rome to New York City to Seattle. When she isn't showcasing her talent, she is busy fostering the growth of pre-school children.
Pete Weber was brought up in the mountains of Colorado on bluegrass, skiing, and ambition. He moved to Fort Collins where he earned a degree in philosophy from CSU. When he isn't playing wildly jubilant riffs on his mandolin, you'll find him streaking downly snowy slopes on his skis or managing local bands. After collaborating with many Denver based projects, he has now turned his efforts towards being an avid mandolin picker and songwriter.
Somewhere in the eternal vastness of space and time, somewhere upon a westward wind, there is a point where Gypsy Punk, Jam Band, and New Grass collide with cosmic force.
That point is Ponder the Albatross.
The "Ponder Phenomenon" is given its drive and force by Josh Bower's ecstatic mandolin, guitar and vocals, Luke Lindholm's searing fiddle; ably abetted by Eric Vrtis' whisking wave of bass & vocals, and Will Schiesser's symphonic symmetry on the drums.
Every song, every show, every performance, is masterfully executed with the frenetic abandon of a Dervish whirling in a swirling mystical haze that impels audiences to engage and become active participants in the shared experience.
Since the band's formation in 2015, Ponder the Albatross has lived for the road, playing live throughout the US and the Rocky Mountains, steadily gaining ground and breadth with every step. Playing upbeat Rock/Gypsy/Grass and getting mountain bars and festivals up and dancing with a strong connection to the music, Ponder the Albatross is a Mountain Band, through and through. You can hear the inspiration of the road, the sea, and the trees in their words and from their instruments – Music that speaks to spirit of wanderlust, to the flight of the Albatross.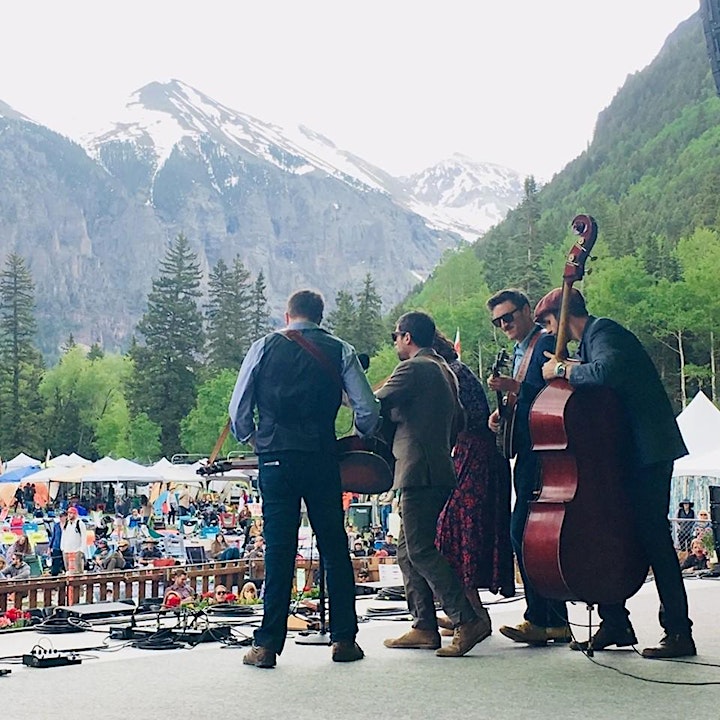 Facebook | Website | Instagram
Bowregard—winners of the 2019 Telluride Bluegrass Band Contest and the 2018 UllrGrass Band Contest—is a five-piece bluegrass band from Boulder, Colorado.
The band formed in 2017 when guitarist Max Kabat and banjo player James Armington met fiddler Colleen Heine and bassist Zachary Smith, who were newly transplanted to Colorado from Savannah, Georgia. Rockygrass Dobro champion Justin Konrad joined the group in early 2019.
With driving rhythm and tight three-part vocal harmonies, Bowregard's underpinnings in traditional bluegrass meld with old-time, Americana, and progressive sensibilities to provide the foundation for their fresh original songwriting.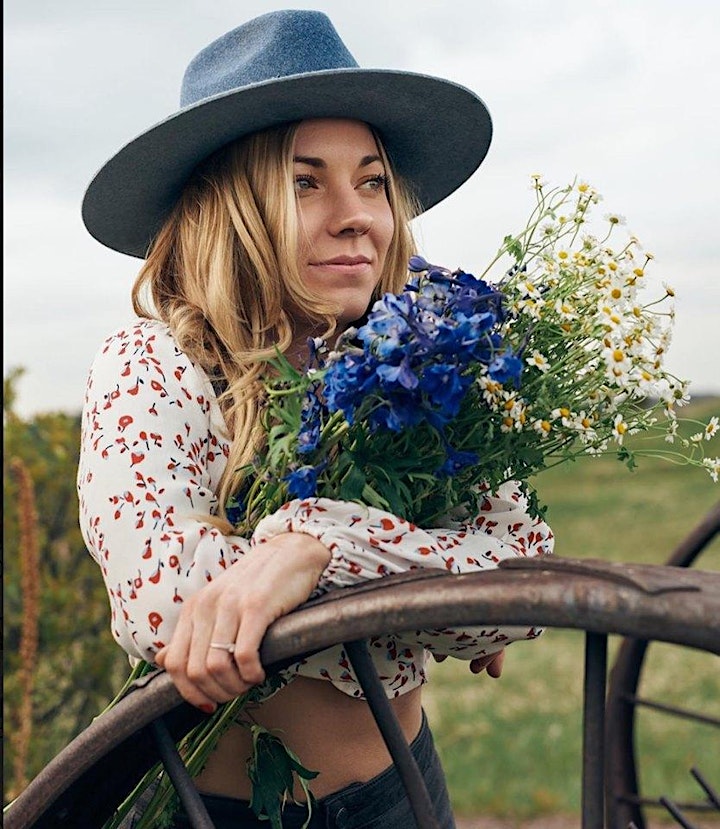 Colorado's premier Rocky Mountain Honky Tonk. Jackie & The Racket have a dark and brassy vibe with upbeat sound. She is smart within her songwriting and compositions. Honky tonk across the Cosmos with Jackie & The Racket.

Venue Information:
Globe Hall
4483 Logan Street
Denver, CO, 80216